Saint's of the past and now
These drawing are inspired by 1 Corinthians 1:2 number 3 just gets to follow because its nice.

2 To the church of God in Corinth, to those sanctified in Christ Jesus and called to be his holy people, together with all those everywhere who call on the name of our Lord Jesus Christ—their Lord and ours:
3 Grace and peace to you from God our Father and the Lord Jesus Christ.

We can all be holy after calling up on the name Jesus.

Saint's of the past and now is a page for drawings of acid burn victims. On this page are drawings of 3 acid burn victims from a series of 6 drawings of acid victims. The original drawings are in full colors, these pictures of the drawings that are here on this page are made to be in brownish hues.

One 2X sided portrait

This drawing is made from one side of a face, this is the left side of a acid burn victim that did not get to badly hurt. I made a drawing where the left side is made the right side also. So this is Shameem two times the left side of her beautiful face. You have to scroll down this page to see 3 pictures of drawings of people that where victims of acid burns or drawing of them, most girls that have had acid burn attacks are beautiful. This picture can only give you a fracture of Shameem beauty. You will find Shameem if you scroll down. But first you will see Katie, that is also beautiful, then Umar that was a priest while he got attacked with acid, and last but not least Shameem that was only a 17 year old girl at the time of the group acid attack.

Shameem
Next is Katie Piper, also a great girl, as you will see, when you get to know her story.

Katie Piper
(Katie Piper is a inspiring person, that has been here for so many, she is living a fulfilling life, with a more than a purpose filled life. Katie Piper and Richard Sutton got officially married in November 2015 and she has a daughter today. Katie Piper has had a eventful life that she has healed much in, and you can read a part of her story here on this page. A story that has a has been documented through media including being put in a art series or drawings made by me that are about acid burn victims. Her life is well documented, and while I was making this page I watched a documentary film about Katie, it was beautifully made and I am grateful to the media, that has shined a light up on lives that we all care about.)
Katie's story:

A model and aspiring TV presenter who had sulphuric acid thrown in her face has revealed details of her courageous battle to recover and pioneering surgery to treat her burns.
Katie Piper was left fighting for her life when her FB date, Daniel Lynch raped her and then arranged for another man to throw the corrosive liquid on her in March 2008.
The acid burned through all four layers of skin on her face and some spilled down her throat, damaging it so badly that she needs to be fed through a tube into her stomach.
She was left blind in one eye and has undergone more than 30 operations on her face and throat. Surgeons had to remove the skin from her entire face and use an artificial skin substitute and skin grafts from other parts of her body to rebuild it.
The 26-year-old's recovery did feature in a Channel 4 documentary, and she has waived her right to anonymity over the sexual assault. In the film, she says she was a "fun person" before the attack on March 31. 2008.
She said: "I was a fun person. I had lots of friends. If I went somewhere and people met me for the first time they would say 'Oh, you're really pretty' and I would think 'Yeah, I am'."
In the wake of the attack and only able to communicate by writing, she told her mother Diane "kill me".
She now wears a plastic pressure mask for 23 hours a day to flatten her scars and keep in moisture.
She said: "I think I've got the chance to build a life.
"I don't it's going to be that easy, but I wanna try. I want to move on from my attack, and I don't want to be a scared little child. I want to blossom into a confident, able woman."
"My dream would be just to live a normal life and after all this be able to meet somebody again and learn to trust a guy and the normal dream: a girl wants to get married and have kids."
She has thanked the hospital staff who saved her life and have cared for her since the attack.
"Coming to terms with the fact that my life as I knew it before the acid attack was over, and that my facial appearance had changed forever, has been incredibly difficult," she said. "I wouldn't have been able to rebuild my life without the support of all the staff at Chelsea and Westminster.
"I want to say thank you to everyone in the Burns Service, in particular my surgeon Mohammad Jawad who has done an amazing job of rebuilding my face - it has exceeded my expectations of what I ever thought would be medically possibly. I'm absolutely thrilled."
She told the News of the World that she had decided to go public to raise awareness of the plight of burns victims.
Miss Piper said: "I've decided to tell my story so that people know what these men did to me. To help people understand who have ignorance about people that look different, and for people not to be frightened of burns and the stigma attached to it, to understand that it's still the same person underneath." For more information about Katie Piper and Katie Piper Foundation here is a link:
https://katiepiperfoundation.org.uk/donate/
Katie documentary: Katie, My Beautiful Face. Katie is a beauty queen. Thank you Katie for all the the hard work of healing and being there for all the world to watch and for giving so many people hope with your life and your foundation for burn victims.
Katie Piper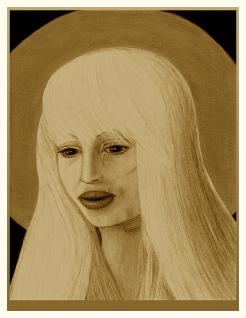 Umar Mulinde
Umar story:

This drawing is of Umar he lives in Uganda and is a convert from Islam to Christianity, that was time he was attacked after his conversion to another religion.

Islamic extremists threw acid on a church leader on Christmas Eve shortly after a seven-day revival at his church, leaving him with severe burns that have blinded one eye and threaten sight in the other.
Bishop Umar Mulinde, 37, a sheikh (Islamic teacher) before his conversion to Christianity, was attacked on Saturday night (Dec. 24) outside his Gospel Life Church International building in Namasuba, about 10 kilometers (six miles) outside of Kampala. From his hospital bed in Kampala, he told Compass that he was on his way back to the site for a party with the entire congregation and hundreds of new converts to Christianity when a man who claimed to be a Christian approached him.
"I heard him say in a loud voice, 'Pastor, pastor,' and as I made a turn and looked at him, he poured the liquid onto my face as others poured more liquid on my back and then fled away shouting, 'Allahu akbar [God is greater],'" Mulinde said, still visibly traumatized two days after the assault. Link: https://pastorumarmulinde.com/

Umar Mulinde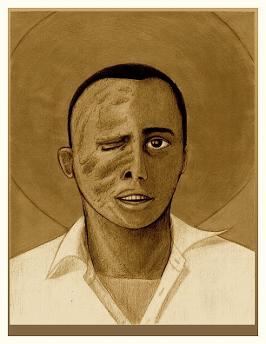 Shameen Akther
Shameen story:

This drawing is of Shameen Akther. Shameem Akhter face was mutilated with acid when she was only 17. She was kidnapped and raped by three boys who then threw acid on her in 2005 for revenge. Then they left, hoping her appearance would silence her forever and ensure that she would never marry. Shameem has undergone plastic surgery 10 times to try to recover from her scars. On this picture she is 20 years old the year is 2008. Here is a link for more information.
https://startupsuccessstories.com/this-organisation-from-pakistan-is-making-acid-attack-victims-live-instead-of-just-surviving/
Shameen Akther